The below image shows the example of certificate issued with the jewellery item.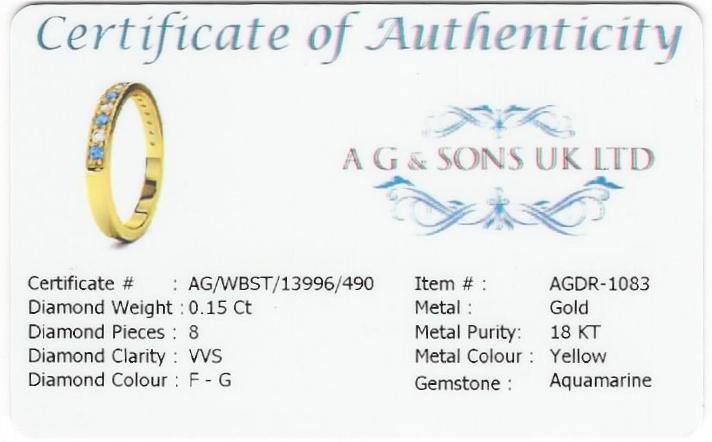 All jewellery purchased from AG & Sons will come with certificate stating important things like metal weight, diamond weight, diamond quality and similar things which a genuine retailer would like its customer to know. This certificate is based on the actual details of the item and is examined by our team member.
Our Jewellery/Diamonds Information
All our diamonds, gemstones & metal are conflict free. This means they are bought from genuine suppliers with invoice and we have paid tax on it. If the item is imported into United Kingdom than we have paid upfront taxes and duties as per HMRC rules and regulations. We are also a part of stop blood diamonds organisations.
More than conflict free only we also speak to our suppliers that they do not employ any under aged and they also make sure about making minimum wages payment and adhering to local government employment rules.
We have personally visited many end suppliers factories and industries. The places do include Surat which is the diamond cutting hub these days of the world which in State Gujarat of India and Jaipur, India which is the hub for sourcing best and ethical gemstones of the world.